Reading Suggestions ~ CENT Stabilization Fund ~ Day 291
This is the publication of reading recommendations to finance the hedge fund to stabilize the price of the CENT token at $0.01
We are going to select and vote on 2 daily posts that we find truly interesting for the CENT community.
With this we will support authors so that they continue creating quality content and adding value to the ecosystem.
These are today's picks. Visit them and let them know of their great work.
Celestia - The Modular Data Availability Network That Started The Bull Market by @pvmihalache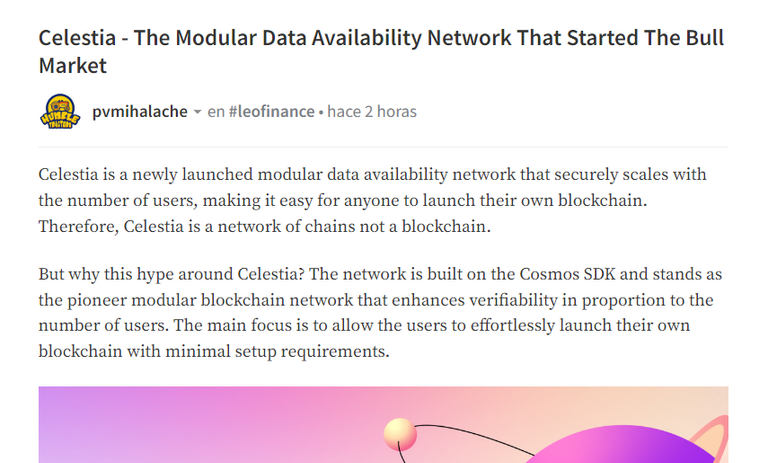 Celestia is a newly launched modular data availability network that securely scales with the number of users, making it easy for anyone to launch their own blockchain. Therefore, Celestia is a network of chains not a blockchain.
Starting a Business and Bringing it to Success is a Serious Commitment! by @curatorcat.leo
The idea of starting your own business, and running a business, seems appealing to many. That said, the whole idea of actually running a business is largely an abstraction for most people.
If you want to support the project and benefit from the stabilizer you can delegate your CENT and LEO tokens to @hiro.guita
We know that it will not be easy and that we will not achieve total coverage, but we will contribute our grain of sand. There will no longer be a reason to undersell the token. You can save it and sell it at a fair price here.
---
---