Investment in Beeswap pool - Pair PIMP:THGAMING - week 22
News
This week we are back to normal and I have managed to add a good amount to the liquidity pool. Specifically 7.78 PIMP and 525 THGAMING. This pool is becoming increasingly popular and it costs more to grow in weight but that is positive since it better fulfills the function for which it is created.
The profitability of the liquidity pool has decreased slightly. Even so, it is a great profitability and it is not varying too much over the weeks.
I start my second investment pool. This time I have chosen a pair that I find very interesting, PIMP:THGAMING. These are two fantastic tokens that I think are going to work very well.
PIMP is a very stable passive performance token and THGAMING is a gaming token with a very active community.
I'm going to expand the type of investments I make in Hive and have chosen pools as a good way to increase the returns I get on-chain.
Why use pools? Because they don't require a lot of time to manage, I don't have too much free time, and because I think they offer good performance.
My investment strategy in Beeswap pools:
I will choose pairs that have currencies that I like and think have a good future.
The minimum performance has to be higher than the 20% that can be achieved in Hive.
If it is possible that they have good liquidity.
Have daily transaction volume
If possible they are linked to Swap.Hive
7 pairs maximum
Second pair - PIMP:THGAMING -
Liquidity - Low
Negotiation - Low
Profitability - 73,85% APR
Linked to Swap.Hive - No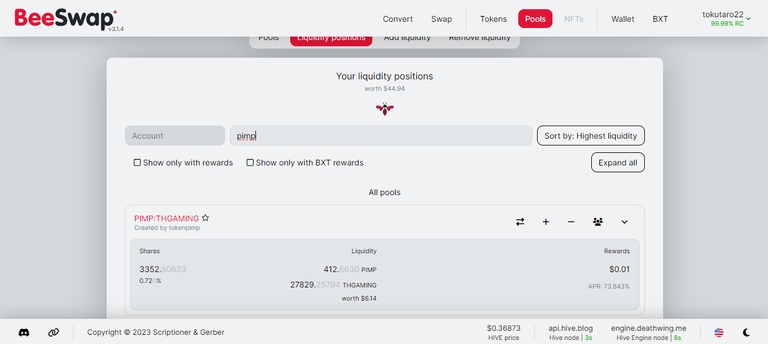 Token Name
PIMP
Supply (Circulating / Total / Max)
13377380.6385 / 14377393.6769 / 42000069.0000
Issuer
@pimptoken
Website
https://peakd.com/c/hive-111011/
Description
PIMP is awarded to those using pimp.media or anyone that uses the tag #pimp. Revenue sharing has been introduced for those that stake the token (currently top 200 HODLrz) with more features to keep PIMPin' the chain for you.
Precision
4
Staking
Yes
Cooldown: 42 days in 6 transction(s)
Delegation
Yes
Cooldown: 4 days
Token Name
THGaming
Supply (Circulating / Total / Max)
41849346.14925 / 41851302.00000 / 1000000000.000
Issuer
@jim-crypto
Website
https://linktr.ee/Threshold_Guardian_Gaming
Description
$THGAMING is the Native Governance Token of Threshold Guardian Gaming : a play2earn gaming guild specialising in NFT Blockchain games across multiple gaming ecosystems.
Precision
5
Staking
Yes
Cooldown: 28 days in 4 transction(s)
Delegation
Yes
Cooldown: 7 days
---
---